---
Housing Community Convening
Save the date for Thursday, May 19th! At the Roosevelt Center from 6pm – 7:30pm, with the option to stay for further discussion until 8pm, we will host local community members and statewide experts championing solutions to our housing crisis. Hear short presentations and a panelist discussion from the RLACF, the City, local employers, developers, and other experts. Light refreshments will be provided.
---
Financial Literacy and Homebuyer Readiness Course
For the first time in 2+ years, we are able to a host an expert-led financial literacy and homebuyer readiness course right here in Red Lodge. This is a FREE opportunity to learn more about navigating the home buying process, credit 101, creating a savings plan for homeownership, typical home loans and eligibility criteria, etc… from HUD-certified financial counselors and a Mortgage Loan Officer.
The course will be held
Tuesday, May 31st from 5pm – 6:30pm
, at the Red Lodge Area Community Foundation on 122 S Hauser. Limited seats are available, so
sign up here to secure your spot.
The course is available both in person and via zoom, for the zoom link see the agenda below.
---
What do we do?
Connecting with and informing the community to provide workforce housing services, programs, training, and education. Our mission is to increase the quality and choices of housing in Red Lodge, provide the community with awareness of housing issues, and expand housing opportunities through training and education.
Our goal is to maintain the integrity and uniqueness of Red Lodge's small-town culture and strengthen its economic well-being by influencing the housing environment to be more affordable, attractive, stable, and accessible for the local workforce. We strive to be efficient and knowledgeable, working with the community to remain a trusted partner and respected authority on housing issues. The Workforce Housing Steering Committee is comprised of lenders, realtors, insurers, builders, the City, businesses, and highly engaged volunteers who donate their time and expertise. In addition to our steering committee we currently partner with USDA Rural Development, Trust Montana, Helena Area Habitat for Humanity, Home Center, and Altana Federal Credit Union, and Beartooth Electric Cooperative to educate and take action on housing solutions.
We have successfully facilitated the building of four permanently affordable housing units on community land trusts since 2016, with three more in progress in 2021. Dozens of households have benefitted from access to first time homebuyer education, financial literacy, and renter counseling resources. Currently we are hosting an Americorps VISTA member to focus on solutions to the shortage of both available and affordable long-term rentals in Carbon County.
Consider supporting our work by donating today.
WHY WORKFORCE HOUSING?
Although there are many important housing needs to be addressed in Red Lodge, the Workforce Housing Committee identified through a Housing Needs Assessment that the most pressing concern is with the existing and future workforce. Our local workforce includes teachers, nurses, and service employees who make our wonderful resort town thrive. Without these people, our economy would not survive and our infrastructure would diminish.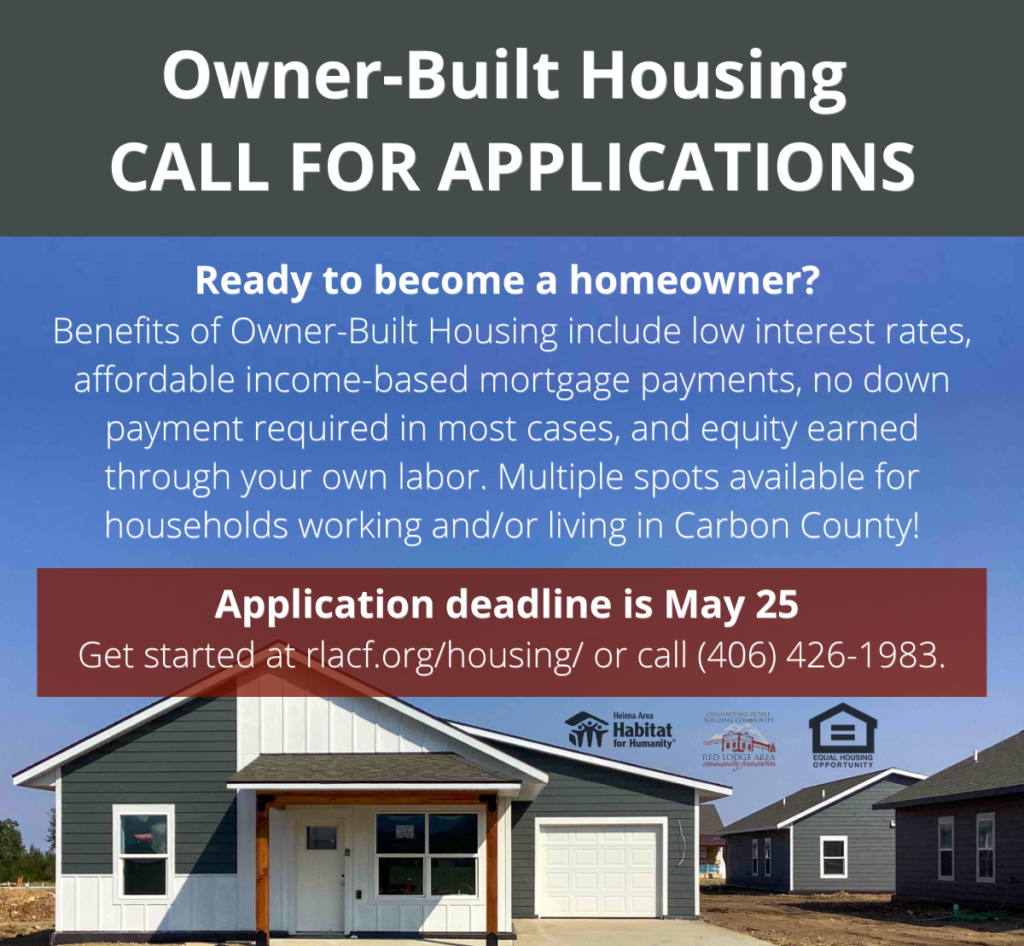 CURRENT PROJECTS
Click on a title below to expand the menu for more detailed information on all our current projects and programs.
GET INVOLVED
Click on a title below to expand the menu for more detailed information on ways to get involved and learn more about affordable and workforce housing issues.
View our past quarterly newsletters below, and if you'd like to receive future newsletters then sign up here.
The Workforce Housing Committee meets the fourth Thursday of the month at 4pm. Meetings are currently held virtually and in person at 122 S Hauser Ave. If you'd like to get involved with the Housing Committee or to volunteer for housing initiatives, contact Robin Adams.
Documents Developed by the Steering Committee:
Agendas and Meeting Minutes

June 2nd, 2022 Agenda TBD / Minutes TBD

4pm – 5:30pm at the RLACF building on 122 S Hauser Ave, or via Zoom
Local Rental Resources

Property Management Companies

Tera Reynolds

Rentals

Fischer and Erwin
Red Lodge

Rental

s
C-Mor Real Estate
Coal Creek Realty

Local Housing:

Red Lodge Apartments

1120 Edict Ave, Red Lodge, MT 59068

406-446-3108

Mountain View Apartments

522 Airport Road, Red Lodge, MT 59068

Phone: 406-248-9028

Frontier Apartments

1115 South Adams Avenue, Red Lodge, MT 59068

406-446-4626


Listing sources:

Carbon County News classifieds

Other

resource

s:
CARBON COUNTY ONLINE PRE-QUALIFICATION FORM
Filling out this form is the first step to apply for our Owner-Built Housing program. For a full summary of the program and eligibility guidelines, view our current projects. If you have questions about this form and/or would like to clarify the information you provide, please contact Robin Adams at robin@rlacf.org or (406) 426-1983.