What do we do?
Connecting with and informing the community to provide workforce housing services, programs, training, and education. Our mission is to increase the quality and choices of housing in Red Lodge, provide the community with awareness of housing issues, and expand housing opportunities through training and education.
Our goal is to maintain the integrity and uniqueness of Red Lodge's small-town culture and strengthen its economic well-being by influencing the housing environment to be more affordable, attractive, stable, and accessible for the local workforce. We strive to be efficient and knowledgeable, working with the community to remain a trusted partner and respected authority on housing issues. The Workforce Housing Steering Committee is comprised of lenders, realtors, insurers, builders, the City, businesses, and highly engaged volunteers who donate their time and expertise to partner with, NeighborWorks, Trust Montana, Helena Area Habitat for Humanity, the Home Center, Altana Federal Credit Union and other community forums to educate and take action on housing solutions.
WHY WORKFORCE HOUSING?
Although there are many important housing needs to be addressed in Red Lodge, the Workforce Housing Committee identified through a Housing Needs Assessment that the most pressing concern is with the existing and future workforce. Our local workforce includes teachers, nurses, and service employees who make our wonderful resort town thrive. Without these people, our economy would not survive and our infrastructure would diminish.
SELF-HELP HOMES – We're building new homes in Red Lodge
The Red Lodge Area Community Foundation's Workforce Housing Steering Committee partnered with Altana Federal Credit Union, Helena Area Habitat for Humanity, and Trust Montana to build quality and efficient single-family homes for qualified people working in the Red Lodge Area. Homes are already under construction in the Spires lots on the west bench off Hwy 78, with more to come. 
Under the guidance of Helena Area Habitat for Humanity staff, qualified applicants are building their own homes, and the homes of their neighbors, with assistance from relatives, friends, and their community.  This Owner-Built Workforce Housing program is for anyone that has stable income, positive credit, and minimal debt. If you're interested in building your own home and the homes of your neighbors, then this program may be for you. 
BENEFITS OF SELF-HELP HOMES
Acquire

 knowledge and skills in home maintenance and construction

 

 

Home-buyer earns instant equity in their home by 

providing

 sweat-equity

 

Develop lasting relationships with neighbors building their homes at the same time

 

Interest rate when modified by payment assistance, can be as low as 1%

 

Up to 33-year payback period, with a 38-year payback period for some applicants based on income

 

Fixed interest rate based on current market rates at loan approval or loan closing, whichever is lower

 
GUIDELINES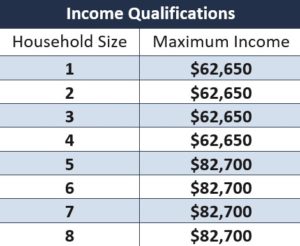 We use the following guidelines to evaluate each pre-qualification applicant, but additional factors may influence your eligibility.  Please contact us to discuss your individual circumstances. 
Skills: No construction or carpentry skills necessary. You'll be taught all you need to know along the way.  
Income: Income Qualifications are set per HUD 2020 Area Median Incomes for Carbon County (see above Table). Because many factors determine a household income, you may be eligible even if your income exceeds the maximum. Applicants must exhibit steady and verifiable income for at least 1 year and work in the Red Lodge area. 
Credit History & Record: Credit is reviewed and evaluated on a case-by-case basis. Free financial counseling sessions are available to support applicants with their credit and homeownership preparation.  
Residency: U.S. citizenship or permanent residency is required. 
Time Commitment: "Sweat-equity" is the time commitment that all households contribute to building their homes and the homes of their neighbors.  Contributing labor lowers costs and allows people to earn instant equity in their home. Commitment to 1 weekday evening 5:30 pm – 8:30 pm and 1 full-day Saturday every week are required for at least 1 years' time and/or until all homes are completed and move-in ready. The weekday night chosen is mutually agreed upon by the build families. 
HOW TO APPLY…
The first step is to fill out and submit a pre-qualification form. This is a short, pre-screening questionnaire that can be completed in a matter of minutes. From there, the form is reviewed and you'll hear back to set up a meeting. 
Here's how you can start your path towards homeownership: 
Fill out the pre-qualification form

online (scroll down to bottom of this page)

You can also pick up a hard copy from 

the Red Lodge Area Community Foundation

, or download and print Pre-Qualification Form PDF

If you fill out a hard copy of the form, please return it to Robin Adams at 

the Red Lodge Area Community Foundation 

by:

 

Mail

: P.O. Box 1871, Red Lodge, MT, 59068

 

Email

: 

robin@rlacf.org

 

In-Person

: Drop off at the RLACF office: 122 Hauser Ave S, Red Lodge, MT 5906

8

 
Questions? Contact Robin Adams (RLACF Workforce Housing Coordinator):  robin@rlacf.org  / Office: (406) 446-2820 / Direct: (406) 426-1983
GET INVOLVED
If you'd like to get involved with the Housing Committee or to volunteer for housing initiatives, contact Robin Adams
CHECK OUT
Owner Built Workforce Housing Program Summary
HOUSING PARTNERSHIPS & RESOURCES
State-wide
Regional
CARBON COUNTY ONLINE PRE-QUALIFICATION FORM