CART's mission is to provide a low-cost public transportation system that serves all of Carbon County and benefits the health, economic, and social well-being of anyone with transportation challenges—especially the elderly, the disabled, and the isolated—living in our rural communities.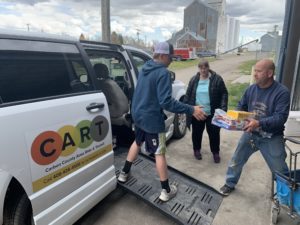 CART is seeking funding to sustain our daily transit operations so we can continue to provide a no-cost (or low-cost) option for those who struggle to get around.
While we are currently funded in large part by grant funding, eventually the CART program, to continue, will need to provide its own sources of public funding and this is a great way to show how much the community will embrace a public transportation system.
Fundraising Goal: $2,500