CART's mission is to provide a low-cost public transportation system that serves all of Carbon County and benefits the health, economic, and social well-being of anyone with transportation challenges—especially the elderly, the disabled, and the isolated—living in our rural communities.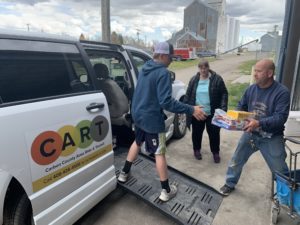 We are dedicated to keeping CART affordable, even NO CHARGE for our passengers. Any funds we receive from the Fun Run will be used to offset the costs of operating the service and keeping it affordable to everyone who needs help with transportation.
CART has been an important service for anyone who has used it to get somewhere they needed to go—in Carbon County or in Billings. Whether to the doctor or vet, grocery or food bank, Roberts or Bridger, senior center, post office, or lunch with a friend—our riders have greatly benefited from CART.
Last year, funds raised through the Fun Run helped us keep gas in the vehicles and the vans on the road in service to the people of Carbon County who have need of public transportation, whether they are 7 or 70!
Fundraising Goal: $5,000