QPR Gatekeeper Training  May 4th – 5th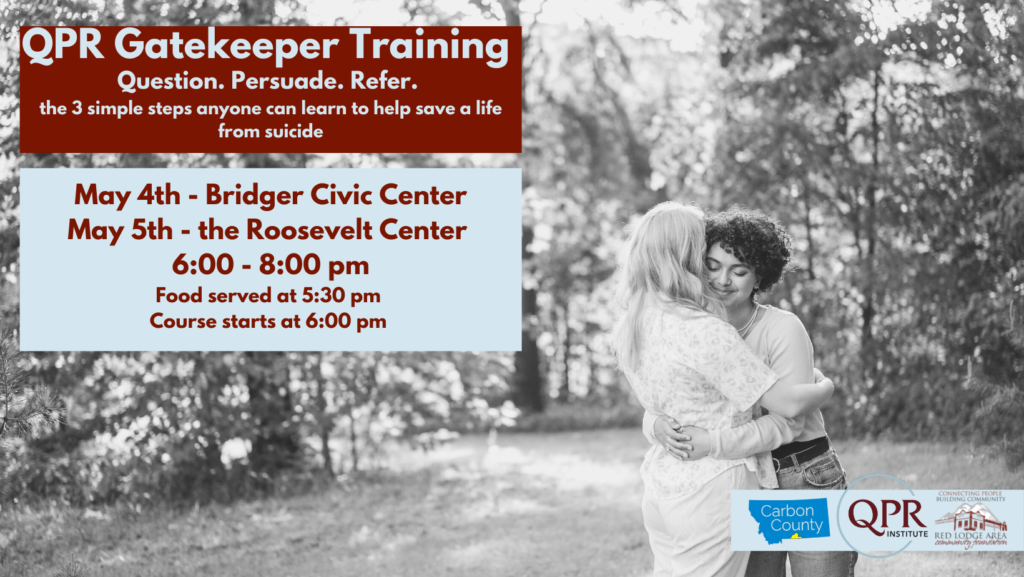 Every 17 minutes, at least six Americans lose a loved one to suicide. Most did not have the chance to learn the early warning signs.  
With QPR training, you have an opportunity to make a difference and have the chance to save a life. QPR is an evidence-based suicide prevention training. Learn how to QUESTION a person about suicide, PERSUADE someone to get help, and REFER someone to the appropriate resource.  
Much like CPR, the fundamentals of QPR are easily learned. QPR will help you recognize the warning signs, clues, and suicidal communications in people in trouble. In this free certification training, you will gain the skills to act vigorously to prevent a possible tragedy.  
Carbon County Public Health and the Red Lodge Area Community Foundation are hosting two QPR Gatekeeper trainings. The training will be facilitated by Fredrick Lee, a QPR Certified trainer. When Fred's own son tragically died by suicide at age 13, Fred made it his mission to help prevent Montana families from facing such an unimaginable loss. Mr. Lee now teaches QPR across the state.  
QPR Gatekeep training will be held at the Bridger Civic Center on May 4th and the Roosevelt Center on May 5th. The course will start a 6:00 pm. Dinner will be served prior to the training at 5:30. Dinner is provided by Mas Taco in Red Lodge and Buckeye Bar in Bridger. 
Please RSVP to the event with the link below.
https://hipaa.jotform.com/220866996185170 
Please contact Brad Caton at brad@rlacf.org with any questions
For more information please visit: