County-wide Transportation System Project Summary
Project beginnings and timeline
In early 2018, surveys and analyses were sent out by a VISTA worker at the Community Foundation to discover the most pressing needs for seniors and disabled citizens in Carbon County. A near-unanimous conclusion showed transportation was the key piece missing in most of the surveyed individuals' lives.
In late 2018, LSC Transportation Consultants helped the Community Foundation form a plan for what a feasible system would look like. It was found through more surveys and analysis that a three-day-a-week, demand-response service with twice-monthly trips to Billings would work best.
In the spring of 2019, the Carbon County Area Ride and Transit was formed. Through the summer, advisory committee members worked on marketing, advertising, branding, and beginning the application for the 2020 MDT operation and capital requests.
In March 2020, CART submitted the capital and operating grants and began working on analysis of other like-sized transportation services in the state. Our hope was to better understand the organizational and funding structures.
---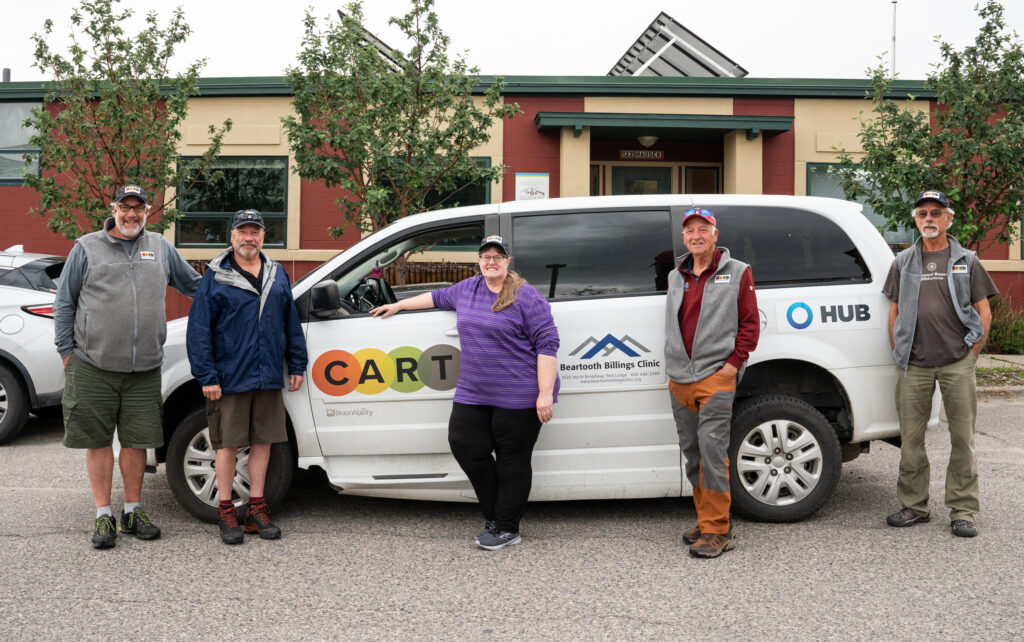 *Cart staff pictured left to right – David Kallenbach: Transportation Manager, Jay Herman: Driver, Karen Dietz: Driver/Lead Dispatch, Mike Taylor: Driver, Grant Barnard:Volunteer Driver.
CART committee and staff
The CART staff is advised by the Transportation Advisory Committee. The TAC meets monthly to ensure up-to-date information about CART, grants, and other necessary details about the project. The TAC is comprised of local volunteers from healthcare facilities, other community groups, business owners, public officials (both county and city), etc.
The Transportation Coordinator is the main liaison between the TAC and daily, Safety Sensitive individuals. Drivers, dispatcher, mechanics,

and coordinators are just a few of the Safety Sensitive individuals who report to the Transportation Coordinator.

Transportation Dispatcher takes calls and schedules rides, as well as acting as the liaison between drivers and the Transportation Coordinator.
We'll be working with MDT on getting covered by insurance, either through the state or a local source. That is a topic to be discussed on a future MDT conference call. However, insurance is budgeted into the operating grant.
View the Carbon County Transit Development Plan
Non-Discrimination & Accessibility Statement