In February 2018, Carbon County became a member of the AARP/WHO Network of Age-Friendly Communities, the second in Montana.
The AARP/WHO Network of Age-Friendly States and Communities serves as a catalyst to educate local leaders and engaged residents and encourage them to implement changes that make communities more livable for people of all ages, especially older adults. They do this by sharing national and global research, planning models, and best practice. Members are asked to assess the community needs and develop an action plan.
George Man, our AmeriCorps VISTA, with the guidance of the Age-Friendly Carbon County Steering Committee, moved this project forward. We visited our county's six senior centers and surveyed participants, using AARP's Eight Domains of Livability as a guide. Surveys were also available at local hospitals, clinics, libraries, the Red Lodge Area Community Foundation, and online. The results revealed the following priorities: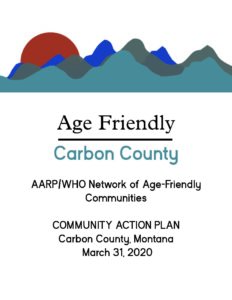 Primary Domains
Transportation

Communication & Information

Housing
Secondary Domains
Community Support & Health Services

Social Participation

Respect & Inclusion
Read the updated Age-friendly Survey Report
A three-year action plan was developed based on what we learned from our community. We provided concrete steps for addressing these priorities. Our long-term goal is to support a proactive community movement to address age-friendly and livability concerns. 
This movement entails active participation by residents, public and private sectors to make Carbon County more livable for people of all ages, means, and abilities.
We have worked hard, listened well, and learned much about what our community has expressed as opportunities for improvement. We are off to a good start with much to go.  
Read the Carbon County Transit Development Plan
Please join us in reviewing our Age-Friendly Carbon County Community Action Plan!