Call 24 hours in advance to schedule a ride.
Currently, there is no charge for this service.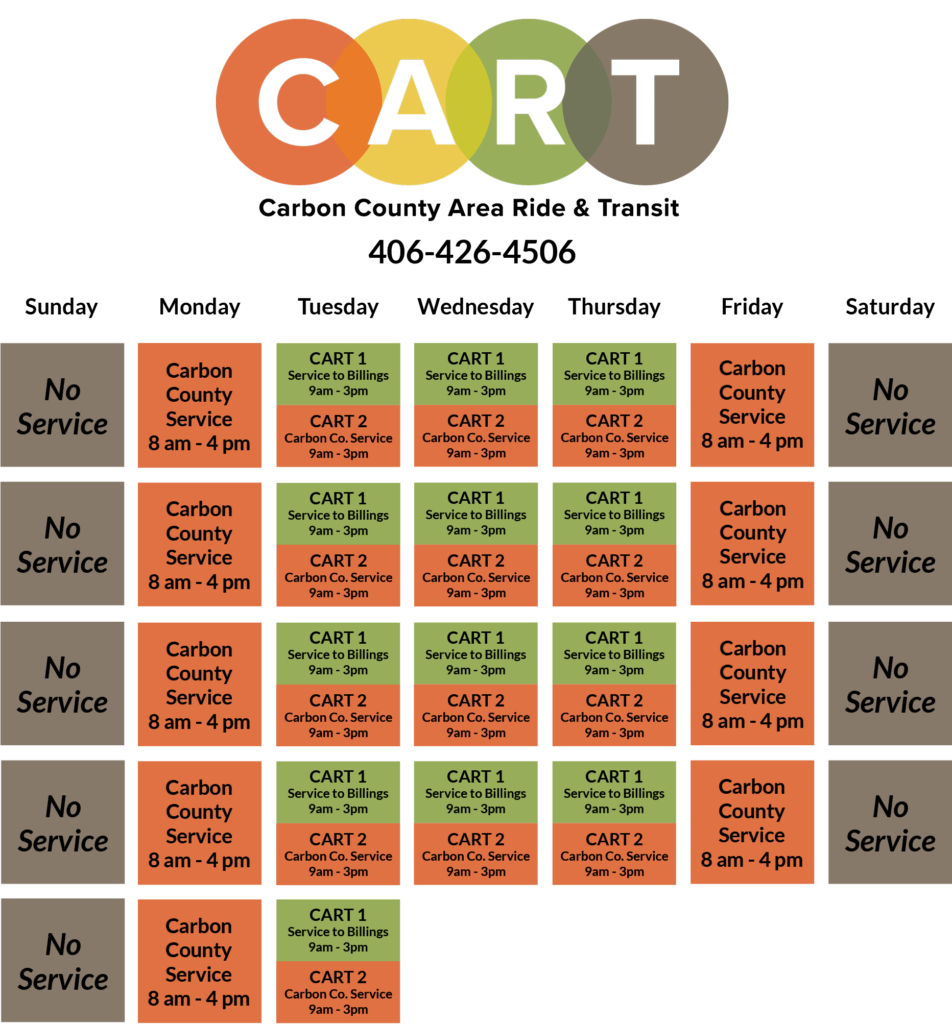 TO CARBON COUNTY DESTINATIONS: 
Having two CART vans now allows us to provide rides anywhere within Carbon County, every day of the week, Monday through Friday.
TO BILLINGS/LAUREL: 
CART now operates Tuesdays, Wednesdays, and Thursdays to Billings and Laurel.  Please book your appointments no earlier than 9 am, and no later than 3 pm on those days.  Billings/Laurel trips are generally designated for medical-related purposes.
*When you schedule a trip to Billings/Laurel you will be sharing the ride with other passengers, so please plan on spending most of the day there.  We request your flexibility & patience while we drop others off at their appointments and wait until they are finished, the same as they will wait for you when your appointment time comes.  We are happy to drop you off at additional destinations to shop, get coffee or lunch, while you wait on other people's appointments to finish.
WHO CAN USE CART? 
CART is a county-wide public transportation service for ALL residents of Carbon County.  ALL ages and abilities may use CART.  Our two 6-passenger mini-vans are ADA accessible, with a ramp to handle wheelchairs easily.  You do NOT have to be elderly to use CART!  Children ages 0-10 can use CART, accompanied by a parent or guardian; ages 11-15 can ride independently, but with a signed permission slip.  16 & older can book their own rides with CART.
WHAT CAN YOU USE IT FOR? 
Doctor/Dental/Eye Care appointments, vaccinations and flu shots, Groceries and food banks, senior centers, other shopping, hair appointments, physical therapy, pharmacy, bank/post office, automotive service, to and from work and school, libraries, gyms/yoga, public meetings and events, recreation, and social gatherings.
DEMAND/RESPONSE
This service means we pick you up at your door, take you to and from  your destination or destinations, and then take you home again when through.  Usually, we have the flexibility to take you to more than one stop if you need.  Just ask.
HOW TO USE CART:
Call us at 406-426-4506: the Dispatcher will take your info over the phone. We may need some time to rearrange the schedule to fit you in, but then we call you back.
Call us more than 24 hours in advance; we can book your ride even weeks ahead!
Be ready to go 5-10 mins. before the designated pick-up time. CART has an excellent on-time record.  We will wait for you up to 10 mins. after your arranged pick-up time, but if you are not there, we have to leave without you.
If you must CANCEL, gives us as much heads-up time as possible. Canceling at the last minute prevents others from using the service often times. 
OUR AREA OF OPERATIONS: 
CART connects every community in Carbon County—Bearcreek, Belfry, Bridger, Fromberg, Edgar, Rockvale, Joliet, Boyd, Roberts, & Red Lodge.  If you live within 3 miles of the paved highways in the county, we will come get you.  We will also go to Luther in the summertime; but dirt roads in Luther/Roscoe present an obstacle in winter.  Currently Roscoe is the only community in Carbon Co. we don't go to.
At this time, CART is a NO-CHARGE public service for residents of Carbon County.  It is funded by federal grants, Foundation funding, generous sponsorships, and individual donations.
During months of inclement weather, we will post updates on Facebook on Red Lodge Buzz and/or Red Lodge Area Road Conditions and Ride Share.
View the Carbon County Transit Development Plan
Non-Discrimination & Accessibility Statement
Project Summary & Additional Information