ABWF LEADS STEWARDSHIP EFFORTS IN THE ABSAROKA-BEARTOOTH WILDERNESS AND FOSTERS APPRECIATION OF ALL WILD LANDS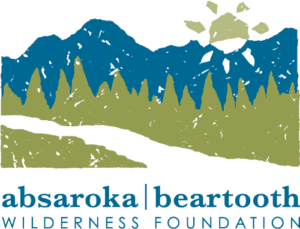 The Red Lodge Area is fortunate to be surrounded by one of the country's premier wilderness areas. The Absaroka-Beartooth provides more than outdoor recreation, but clean air, water, and superb habitat for fish and wildlife that help maintain our community's quality of life. That's why the Absaroka-Beartooth Wilderness Foundation's mission is to support stewardship of the Absaroka-Beartooth Wilderness and appreciation of all wild lands, which we do through volunteer engagement, education and outreach, and community collaboration. We partner with the U.S. Forest Service to maintain trails, pull invasive weeds, educate visitors on wilderness ethics, share our appreciation of wilderness values, and provide other services in demand by our agency partners and wilderness stakeholders (i.e., YOU!) alike.
Last year, with your help thanks to a very successful Fun Run campaign, we were able to:
Complete 9 trail projects, engaging 103 staff and volunteers, plus 44 horses and mules to build and maintain nearly 60 miles of trail,
Organize 11 educational hikes, workshops, and webinars, mostly volunteer-led, exploring everything from the whitebark pine ecosystem on the summits of the Absaroka Range to the sagebrush steppe of the Beartooth Front,
Host 2 interns for the Gardiner and Beartooth ranger districts, who collectively cleared 666 water bars and 1,324 logs while maintaining 185 miles of trail,
See a 435% increase in Trail Ambassador hours (primarily concentrated in Red Lodge!!!) at some of the A-B's most heavily used trailheads,
Specifically engage wilderness stakeholders who've been underrepresented in our programming, including people with disabilities, at-risk youth, and LGBTQ folks
Continue "behind the scenes" efforts, including strategic planning and diversity, equity, and inclusion dialogues, that are helping ABWF develop as an effective and sustainable organization.
To make those efforts and big ideas a success, we are going to need a big increase in organizational capacity, so we will be ramping up our own fundraising efforts in order to hire more programs as well as development staff in a variety of full time, seasonal, and contract positions. You can help us kickstart this effort with a Fun Run '22 donation today!
Our Fun Run '22 Fundraising Goal is $17,124, but WHY?
$17,124 is the private sector value of the work that ABWF's Red Lodge intern completed during the 2021 Summer. We challenge '22 Fun Run participants to match her contribution!
Absaroka Beartooth Wilderness Foundation Website