What Resilience Looks Like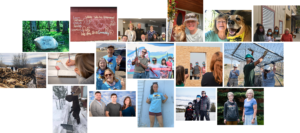 Connecting people—to resources, to each other, or to the causes they care about—has been uniquely challenging in 2020. The Community Foundation, however, has worked for years toward this singular goal, and although physical locations of staff changed and many in-person projects had to be altered, our mission never wavered. We found success this year by adapting, and by taking inspiration from the resilience this amazing community demonstrated throughout.
Most important to the success of Foundation projects is the support and passion of you, the community we serve. You drive our projects forward, and we are very excited to share your stories and to continue creating new stories for years to come.
Read one of our favorite stories from 2020 by clicking on an image below: