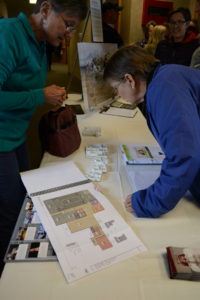 TOGETHER, WE DID IT!
Thank you to everyone who made the Old Roosevelt purchase possible! Tuesday September 19th, 2017, we celebrated the purchase of Old Roosevelt with the community at the Open House and the Ribbon Cutting Ceremony! We were thrilled to have such a great turn out, with of over 100 people to share future plans of the buildings with everyone who attended. During the open house we toured the buildings, sharing stories of its rich past as well as the vision of these spaces in the future. Local artist, Janice Polzin, was actively painting and coordinating volunteers for the community mural, that over the next few weeks will take form and wrap around the entire outside of the building bringing color and a fresh start for Old Roosevelt. The display cases in the halls were once again filled, now with featured local artists and performers work. Throughout the building, rooms were labeled with their future purposes, the architectural reports and 3D prints of the building's future design were available with more detailed descriptions.
Midway, the crowd gathered to the front entrance, that has been locked for nine years! Betty Hecker, Public Schools Foundation, spoke about the progress we have had and the long road it has taken to get to where we are now as well as the collaborative planning that has gone into every aspect of this project and will continue to develop as we go on.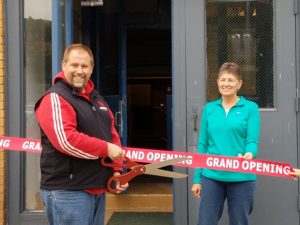 Mayor Mike Schoenike enthusiastically said,
"It seems like just about everyday. I am amazed by the amount of talent in this community. There's going to be a space now for people to exhibit their talents, and also a place for new talent to be encouraged and forged."
He continued to express his confidence in Old Roosevelt's economic impact on the community with creating conference and meeting spaces, "It will have great economic development impact, especially for main street."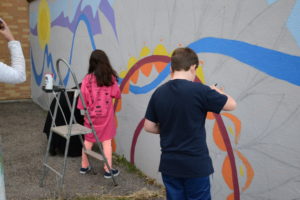 Lauren Larson, Red Lodge Chamber of Commerce, spoke about the impacts, "The Red Lodge Chamber of Commerce is proud to support the Community Foundation and this dynamic project that will have great economic impact on our community, will enhance residents and visitors through the arts, as well as provide a facility for greater community interaction." She also continued to explain the importance of tourism to our community and how this project will continue this industry, "This facility will aid in making Red Lodge a destination for conferences, meetings, and special events.
Martha Brown, Foundation Board Chair, made the final speech and thanked the entire community for their efforts in this project.
"This is an amazing example, but one of many, of how our community comes together to get important projects done."
This will hold true in the upcoming months and years as this project grows and comes to fruition. It will be a true community effort, in all phases, to be sure the community's vision becomes the reality. Martha made sure to clarify the collaboration of this project, "We don't want to compete with any businesses, we want to enhance them, offer them opportunities to expand here, and use this facility." This project thrives off of the community's dreams and vision and its fully intended to be an asset we can all share and call our own.  Together, we have already invested $500K and there is a long way to go before we reach our goal of $15 million. There are four funds to donate to, to keep this project moving forward: The Capital Campaign, Permanent Endowment, Arts Programming, and the Operating Fund. We are seeking grants, donations. and volunteers.
Thank you to everyone's enthusiasm and efforts with Old Roosevelt. We are thrilled to see what is all to come!
Learn more about Revitalize Old Roosevelt online or sign up for the Monthly Newsletter.
Watch the Ribbon Cutting Ceremony