By Stephen Kalb-Koenigsfeld, Red Lodge Area Community Foundation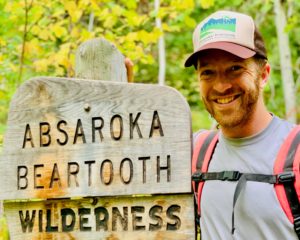 As a kid, Patrick Cross made the recognizable journey from Billings to Red Lodge. He loaded his pack, his tent and a weekend's worth of food into a car, and headed south with his Boy Scout troop. He'd roll through downtown and keep on going before pulling off at the Beartrack Trailhead with their caravan, ready to set foot in the Absaroka-Beartooth Wilderness and the Custer Gallatin National Forest.
A decade and change later, Cross is making the same journey. This time, as the Absaroka-Beartooth Wilderness Foundation's Executive Director.
It's a "full circle" kind of employment, he said, after taking the job this summer. As a kid, Cross remembers the numerous trips down around Red Lodge, as he'd work on trails and camp and hike throughout the wilderness. It's a job he likes, in a place he loves.
"It's an organization I really care about," Cross said. "I grew up in Billings, so all my outdoor interests are based in the Beartooths. All these headwaters that people see elsewhere, all start in the Beartooths. We have a great crew who are getting into the backcountries, and I'm working on ways on getting everybody involved."
Cross was tipped off to the ABWF originally when he was asked to write a piece in the "Voices of Yellowstone's Capstone: An Atlas of the Absaroka-Beartooth Wilderness." He'd been a member of the ABWF and had increased involvement ever since.
The Billings native has extensive background work in nonprofits, most recently working in the Greater Yellowstone Ecosystem as a field tech since 2008. When the job opened up in the early summer of 2020, it was time for the next step in his career.
"Like any young coyote, I felt it was my time to disperse from the pack," Cross said.
With an already healthily established organization at his disposal, Cross brings a highly scientific and educational-based background to the ABWF. A focus on learning and experiencing is was he said people can expect during his tenure as the executive director.
"I bring the science background, and the ABWF has always had a citizen-science mission. I hope to get to bring that to play," Cross said. "We're going to focus on things and projects that fill a real need for public lands managers."
A team in Red Lodge – where the ABWF is headquartered – will help with educational outreach. Ben Daley, the program director in Red Lodge, has helped develop conversations with Cross, focusing on how to get low-income and minority groups involved with the Beartooths.
"Fostering relationships within our local communities – specifically including Indigenous communities –  to promote the Absaroka-Beartooth Wilderness and all wildlands was one of the founding goals of the ABWF," Daley said. "But in our recent publication, Voices of Yellowstone's Capstone: A Narrative Atlas of the Absaroka-Beartooth Wilderness, an essay by Shane Doyle of the Apsáalooke (Crow) Nation highlighted the disconnect experienced by many Indigenous people towards their ancestral homelands."
That disconnect is something Cross and his staff are hoping to bridge in the coming weeks and months. Different educational tools, resources and trainings are expected to help not only bring people to the Beartooths, but bring the Beartooths to people who might not be able to access them.
"Education has always been a part of the ABWF's programming, whether for our trail work volunteers or other groups," Cross said. "We desire education and outreach not only for people who are visiting the wilderness but for everyone who benefits from its existence (i.e., all of us). It is vital for all people to feel connected to the wilderness because those connections benefit the people and the wilderness alike."
For more information on the ABWF, visit their website at abwilderness.org.