Welcome to the Community!
By Chelsea Ditmore, Marketing and Outreach
This past week was the start of a new adventure for two young ladies. Brooke Klaess and Carly Kyte have joined the team at the Foundation from the AmeriCorps VISTA program. Each of them brings a new perspective and background to programs in our community involving Youth and a Resilient Community.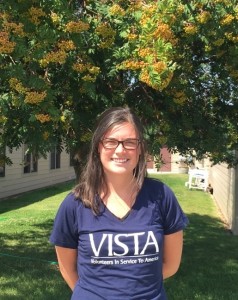 Brooke Klaess is from Denver, Colorado. She graduated from Colorado State University with a Bachelor Degree of Science in Human Development and Family Studies. Brooke enjoys being outdoors, hiking, snowboarding, traveling, and dogs.
Her VISTA project is Enhancing School Climate for Educational Success in Roosevelt Middle School. She will also focus on the development of youth internships and connecting youth with adults/businesses who support their talents and interests. She is passionate about education and working with youth. Brooke is very excited to be in Red Lodge and be involved in this great community!
"I am thrilled to work with people that share my passion for youth programming," says Brooke. "I am also very excited to get to know people in the community and explore the beautiful surrounding landscape."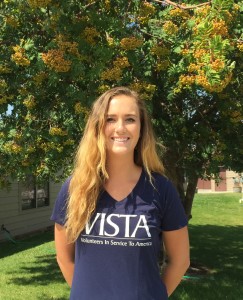 Carly Kyte is from New York and graduated from the University at Albany this past May with a Bachelor Degree of Science in Human Biology and a double minor in Chemistry/Bio Ethics. She enjoys doing various outdoor activities, playing sports, painting, listening to music, and is a huge animal lover.
Carly would eventually like to have a career in the medical field, but in the meantime, she wants to dedicate some time working with people and helping others. She will be further developing the Navigator Program, in hopes to gain and develop volunteers to connect people to resources and spread awareness of available local, state, and federal aid, ultimately creating healthier futures for the people of Red Lodge. This is her first time leaving the East Coast, so she is very excited to see what new challenges and surprises Montana will bring!
Carly said, "I'm really looking forward to meeting as many community members as possible and hear everyone's needs and ideas for this upcoming year. I'm hoping to learn as much as I can from Yvonne Johnson and make a lasting impact on community members through the Navigator Program."
Tracy Timmons is thrilled to welcome Carly and Brooke to the TEAM! She points out that, "AmeriCorps VISTA has brought many new faces to Red Lodge over the past five and a half years, incubating and developing programs, volunteers, and funding including the Mentoring Program, Lunch in the Sun, Carbon County Resource Directory, Revitalizing Old Roosevelt, Healthy Community, Early Childhood Development, Veteran support and Workforce Housing. We are very fortunate to have talented people come from all over the country to serve between one and two years and dedicate their efforts to connecting people and building community." She continued that, "AmeriCorps provides economic benefits to our community by focusing on developing assets that work to transition people away from poverty and simultaneously creating new employment opportunities for jobs to administer the assets created." When you see Carly and Brooke in town, please be sure to welcome them.