Our mission is to create a top-quality concrete skatepark in Red Lodge, to provide a safe, durable, low maintenance, family orientated all-inclusive free-to-use sports facility for our community.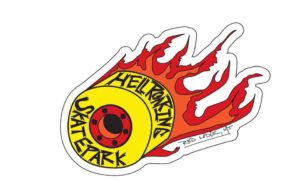 This year, we are fundraising for a new concrete skatepark, resulting in a safer, cleaner skatepark for all those who use the park!
We're so close to making a concrete skate park in Red Lodge a reality! Between funds raised and pledges, we have $119k of our $200k goal. Help us get there by donating today, every dollar counts.
Wondering why Red Lodge needs a new skatepark? Great question! While we are lucky to have a dedicated skate park in town it is currently made of wood and metal and requires expensive annual upkeep to make it safe. Currently, the park is not very safe and therefore, not very fun. A concrete skate-park will reduce annual upkeep costs, last far into the future, and withstand our harsh winters. This new park will be user-friendly for all ages and abilities. 
In addition to raising funds through the Fun Run, we have been hosting fundraising events, applying for local and national grants, and selling merchandise. Visit www.hellroaringskatepark.com for more info on our efforts or stay in touch on Facebook!
Fundraising Goal: $10,000