Lee Kern Art Installation Coming to Roosevelt Center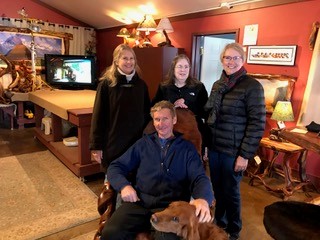 The Roosevelt Center announces an upcoming art installation on the property at 519 S Broadway Ave in Red Lodge in the spring. Lee Kern is creating a one-of-a-kind moose sculpture to enhance the Roosevelt property. This will be the first art installation on the grounds.
Lee Kern is a Red Lodge resident who is a lifelong artist and outdoorsman. His primary medium is the fallen Rocky Mountain juniper. Lee crafts beautiful complex pieces, such as desks, beds, lamp tables, and signature rockers, while preserving the natural context and expressing the natural beauty of Montana's juniper. His life-size animal sculptures are iconic to his work. Some of his other sculptures can be seen around Red Lodge and include grizzly, elk and bison.
Roosevelt Center is an evolving place for performances, arts and conferences. When purchased in 2017 from the Red Lodge School District, the building began its slow progression to a functioning facility to benefit our community. As work is being done, space is being used by artists, theatre groups, conferences, meetings and community events. Roosevelt Center is looking forward to having Lee Kern's beautifully crafted art on display.