By DSVS Staff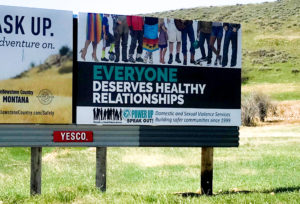 At Domestic and Sexual Violence Services (DSVS) we believe that everyone deserves healthy relationships. For all of us who work here, it's not just a catchy tagline. It is central to our mission as we empower individuals and families impacted by intimate partner violence and sexual assault, and it's why, in 2012, we launched Power Up, Speak Out! a violence prevention program for middle school students that teaches them the basics of healthy relationships.
DSVS is taking the message to new heights this summer with the installation of a billboard south of town near the US Forest Service office. It reads, as you might guess, "Everyone Deserves Healthy Relationships." The project was funded by a group of donors who wanted to spread a positive message while many visitors are in town and part-time residents return. It can be seen by drivers as they head up Beartooth Pass, and will remain up through the middle of October.
Inclusion and diversity have been at the heart of the project from the start, and many locals stepped up to model for Photographer Merv Coleman, who created the composite image across the top. The campaign includes not only the billboard but also banners, posters, and advertising.
DSVS provides a range of services to individuals and families experiencing domestic violence and provides support to survivors of sexual assault. If you or someone you know is in an unhealthy relationship and needs help, please contact the DSVS 24-hour helpline at 406-425-2222.