The Red Lodge Theater Company's mission is to create opportunities for community participation in enriching theatrical experiences. Our focus is on inclusion and quality, giving the public a well-balanced theatrical season, and striving to meet with excellence all of the demands placed on a community theater.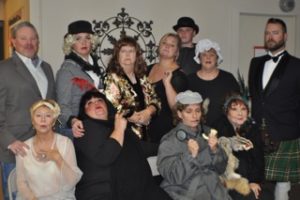 Raising funds for:
The RL Theater Company needs funding for a plethora of things!
The cost of putting on a production is huge! With money needed for the shows to pay for rental of the space for the play, royalties, stage construction/set design, costuming and props. We continue to require support to put on a production and are looking to the community to help with this venture.
Last year we started to ask for sponsors and donors to help with these huge monitary expenses and we were quite fortunate to receive funds. However, due to changes and higher costs this endeavor for theater in our community has become a burden that one production alone cannot sustain throughout the year.
It is our dream to be able to sustain a season of productions that would include, known productions, community written materials, children/youth and musicals. The Company dreams of having productions going on in the community continually! Surprising and exciting our community with a season of show stoppers!
Impact:
We hope to impact the entire community by putting on plays that make us laugh, cry, and gives everyone an opportunity to get away for a few minutes and live in a world of creativity and excitement! We want to make an impact on the youth in this community by bringing them on to the stage to learn a skill that has been around and enjoyed for centuries! To create a passion that children can build on in their future! And to give them a moment to be something special to everyone in the audience! To give someone the opportunity to share their skill either through performance or in writing, to have a thrill of a life time and to share their inner most creative mind!
Fundraising goal:
Our goal is to be able to fund a season of Theater.
This would include at least 5-6 productions in one season. So our ultimate goal is to raise at least $18,000.00!
Yes, we are aiming for the stars! Because that is what we will be creating through stage performance-stars of unimaginable quality!!