With Grants be Awarded and Fun Run just two weeks away we are hard at work so that our community nonprofits can thrive!
Community Grants Gives $9,000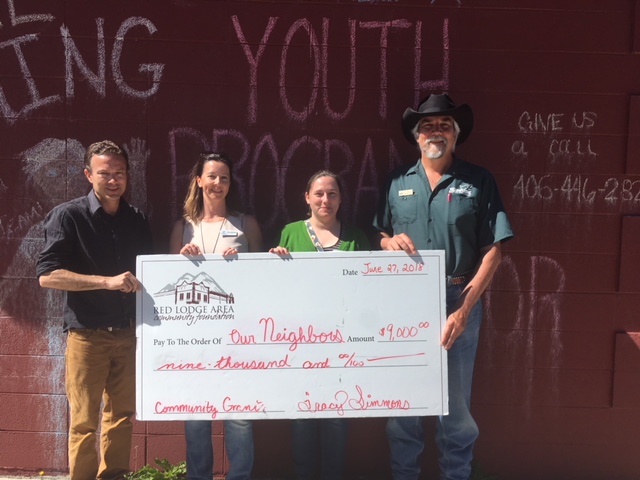 Each year the Foundation provides grant funding to a diverse range of projects and programs that benefit our community. This year we funded 15 projects for a total of $9,000. Proposals come from organizations and community groups and the partially or unfunded applications from the Pro Cut Green Fund and the Rotary Club Youth Grants.
Congratulations to the Grant Award Winners!
• Beartooth Little League
• Boys & Girls Club of Carbon County
• Beartooth Recreational Trails Association
• Carbon County Arts Guild
• Food Partnership Council
• Friends of Bridger Public Library
• Jane Ferguson Wilderness Adventures
• Red Lodge Area Chamber of Commerce/CVB
• Red Lodge Active Transportation Work Group
• Red Lodge Carnegie Library
• Red Lodge School of Dance
• Red Lodge XC Ski Foundation
• Roberts Parents for Performing Arts
• Yellowstone Wildlife Sanctuary
• Yellowstone Bighorn Research Association
Youth focused applications have been forwarded to Kids Corner for further funding consideration. The applications received as well as the partnerships with Rotary Club Youth Grants, Pro Cut Green Fund, and Kids Corner is a great display of the significant number of organizations working daily to improve the lives for members of Carbon County. We look forward to continued partnerships and opportunities to support the positive work being done in our community.
Meet Stephen!
Hello all! My name is Stephen Kalb-Koenigsfeld and I'm the new Nonprofit Program Director here at the Foundation. My wife and I moved here in early July from Big Timber, and before that, central Iowa. After more than six years as a journalist, I'm looking forward to getting to work more closely with non-profit organizations and helping better our community!
Fun Run Just Two Weeks Away!
With the Fun Run just around the corner we want to remind you all the ways to make the most out of Fun Run 15!
There are many ways to give! Donate to your favorite of the 61 charities through the Fun Run and make more of your donation when they receive a match. You can give to the Sally Martin Match Fund to benefit all charities, or you can go to Junction 7 who is donating 10% of all print sales to the Sally Martin Match Fund. You can donate online, in person at 122 S Hauser, or by mail at PO Box 1871 Red Lodge MT 59068.

REGISTER:

Registration is free until the day of the event! If you do decide to wait until the event day there is a $20 charge which will directly benefit the Sally Martin Match Fund. You can register online, in person at 122 S Hauser, or by mail at PO Box 1871 Red Lodge MT 59068.

Take a minute to learn about all the participating charities who benefit from Fun Run 15! There are 61 organizations that work tirelessly to make our community the amazing place that it is. The Fun Run is a wonderful way to connect to organizations that you may have never known about. See how these charities directly impact you! You can learn about them online or at the event. All the charities will be there with information booths.

SHARE THE WORD!:

Check out the Fun Run on Facebook and share with your friends and family! When you help spread the word, you help spread the love for all these charities!
Did You Know…
| | | | |
| --- | --- | --- | --- |
| There have been 88 volunteer hours supporting the Shared Service Center this year | | Other community organizations have held 191 meetings this year at the Shared Services Center | |