By Theresa Whistler, Hero's STEAM Center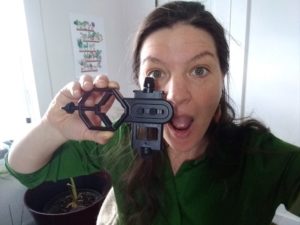 Something wonderful is happening at Hero's STEAM Center with a recent burst of inquiries about 3D printing. Everyone knows that Hero's serves the Boys & Girls Club of Carbon County, and associates the Center with youth programs like Battle-of-the-Bots. This past year, we've had a flood of visitors come in just to make snowflake ornaments of the variety made famous by COVID-19.
But that's changing.
People are beginning to think about Hero's STEAM Center as a place to innovate and solve problems!
On March 28, Brent Morton created a post on the "Red Lodge Buzz" Facebook page stating that he was, "Looking for someone with a 3D printer that would be willing to help me with a bigger 2 mold project (keyboard shell)." Luckily, Jeremy Battles remembered Hero's STEAM Center and responded by sharing the link (thank you, Jeremy). Brent Morton followed up by emailing Hero's STEAM Center asking if he could print something on the 3D printer.
"Sure, come on in and we'll make a plan together for your project," was the reply he got from us at Hero's. "That's exactly what we're here for."
Brent Morton's first visit at Hero's was purely joyful and full of the optimism he brought with him. During his visit, Brent explained that he and his family live in Red Lodge and that all this time he had no idea the STEAM Center was here!
He's been fortunate enough to support his family by working from home as a full-time programmer for about three years. But, Brent explained, he had recently undergone physical therapy in order to address a frayed shoulder rotator, a trapped ulnar nerve, and increasing pinky numbness. All this was due to spending so much time on a poorly designed, outdated, traditional flat keyboard and reaching repeatedly for the trackball to his keyboard's side.
Something had to be done, so Brent made a decision to find a more ergonomically designed, split keyboard in short order. He believed a split ortho linear keyboard could definitely help alleviate symptoms that seemingly were becoming worse through time.
Brent had already been sleuthing the internet, researching potential keyboards to buy. Unfortunately, he found that most of the available options did not match what he envisioned for himself, and many had sets of specialized features and functions that he did not need. A further discouragement was the price tags on these available keyboards– with many costing anywhere from $300 to $400. Once you've met Brent, it's easy to realize how natural it is for him to take steps to create his own user-defined keyboard. Once he began sharing his project ideas with me, I could tell his enthusiasm and determination would let nothing stand in his way.
After investigating some of the internet-shared 3D models for split keyboards in their stereolithographic CAD (STL) surface file formats, experimenting with the PrusaSlicer program to assign structural attributes, and learning about the 3D printers and filaments at the STEAM Center, Brent determined how he would proceed with his design.
Instead of printing the keyboard shells, he decided to order the two-part base with a key switch kit, yet,3D-print the keycaps himself. Ordering the caps from overseas to fit the key switches could have taken months. In addition to printing the keycaps, Brent printed a diode bend assist tool and a key switch popper that will make it easier to take apart switches and lube the springs.
Indeed, the path to completion was full of research, experimentation, learning new skills, and refreshing old ones, such as soldering. Brent's thrilled with his customized split ortho linear keyboard and it only cost him one-third the price of a pre-built, retail product.
Speaking of the successful completion of his ergonomic keyboard project, Brent cribbed a phrase (often heard in my own household for many decades), from the 70s television series, "The Six Million Dollar Man": "We have the technology"!
His meaning is that we should use the technology we have to customize and innovate things that solve our problems and improve user experience. That's also our attitude in embracing technology at Hero's, and we hope you'll bring your ideas into the STEAM Center to see what may be possible.
This story doesn't end with Brent's new keyboard. Shortly after Brent's inquiry, Schyler Allyn caught up with Hero's, waving his grandmother's decades-old favorite, but badly blistered and burned spatula around, asking if it could be replicated with 3D printing. Mother's Day was coming up and perhaps he could surprise her with a new one?
To get Schyler's project jump-started, Walter Clapp began experimenting at Hero's with Autodesk's free online Tinkercad application to model a spatula closely resembling Grandma Alberts's old one.
Not all experiments result in the outcomes we initially hope for. The length of Schyler's replica spatula extended to the limits of the printer's heated bed causing it to cool and curl on one end while still printing the opposite end. Additional redesigns of the spatula were tried by changing various fill patterns and densities to see if it could be fortified. Despite each improvement, the high-heat tolerant ABS filament only resulted in replicas that were too brittle for cooking purposes.
This experiment didn't end as we hoped, but we learned a lot along the way– and knowledge gained through experimentation leads to future success!
Another success occurred at the STEAM Center on a Saturday afternoon while Courtney Long and other volunteers gathered to co-host the City's Nature Challenge. Courtney asked if we could create screws to replace the two lost from a clamp that's used to affix her phone to a microscope. She was hoping to replace the screws that same day so she could capture microscopic images during the event.
So, following Don Redfoot's captivating presentation about capturing wildlife on video in his own backyard, we turned our attention toward Courtney's ask.
An assumption was made that the screws needed (related to camera clamps & gear) are likely the same standard size as a tripod screw. There's an internet site called Thingiverse.com that facilitates sharing free STL files for 3D printing. Luckily, the search for a tripod screw on Thingiverse resulted in a good match. As soon as the STL file was downloaded, prepared, and printed, Courtney tried the screws out and they fit perfectly! This experiment provided a multitude of spare screws (just because you can never have enough and it felt so good to repeat our success).
Maybe the STEAM Center's time has arrived. More people are connecting with Hero's to find a way to create something they have in mind no matter how big, little, or different their idea. People like Brent, Courtney, and Schyler looked to the STEAM Center to solve a problem. Brent's innovative keyboard, Schyler's quest for a replica spatula, and Courtney's need for replacement screws – we have the technology at Hero's!
Maybe this gives you an idea of how to take advantage of the STEAM Center too.
While all these exciting 3D-print experiments had been going on, Hero's Advisory Board was lining up a couple of week-long part-time summer camps: Basics-of-Bots (June 14-18) and Build-a-Bot (July 12-16), aimed at grade levels 3 – 8.
The fee for each camp is $25 to cover the costs of materials and equipment. And, the Red Lodge Area Community Foundation is accepting Youth Enrichment Fund applications for the camps to ensure cost is not a barrier for anyone. The application is downloadable: https://www.rlacf.org/media/Youth-Enrichment-Fund-Application-cd.pdf
The STEAM Center will remain open all summer for visiting youth on Tuesdays (4 – 5:30 p.m.). We're also hosting a Wildflower ID workshop (June 14), and a series of guided hikes with Jennifer Lyman for the Eastern-At-Large branch of the Native Montana Plant Society during June and July. The Board is creating a Design Challenge for the community and a "Clothesline Campaign" that should make the City's Sustainability Board very happy. The campaign may persuade residents to take advantage of solar and wind energy by hanging their clothes to dry and showing off some color!
If you're curious to learn more about Hero's STEAM Center, come in and visit– or check out our Facebook page: https://www.facebook.com/HerosSteamEngine.
We'll also be part of the First Friday Art Walk at the Roosevelt Center, June 4. On that day, our doors will be open from 5:00 to 9:00 p.m. We look forward to seeing your friendly faces.