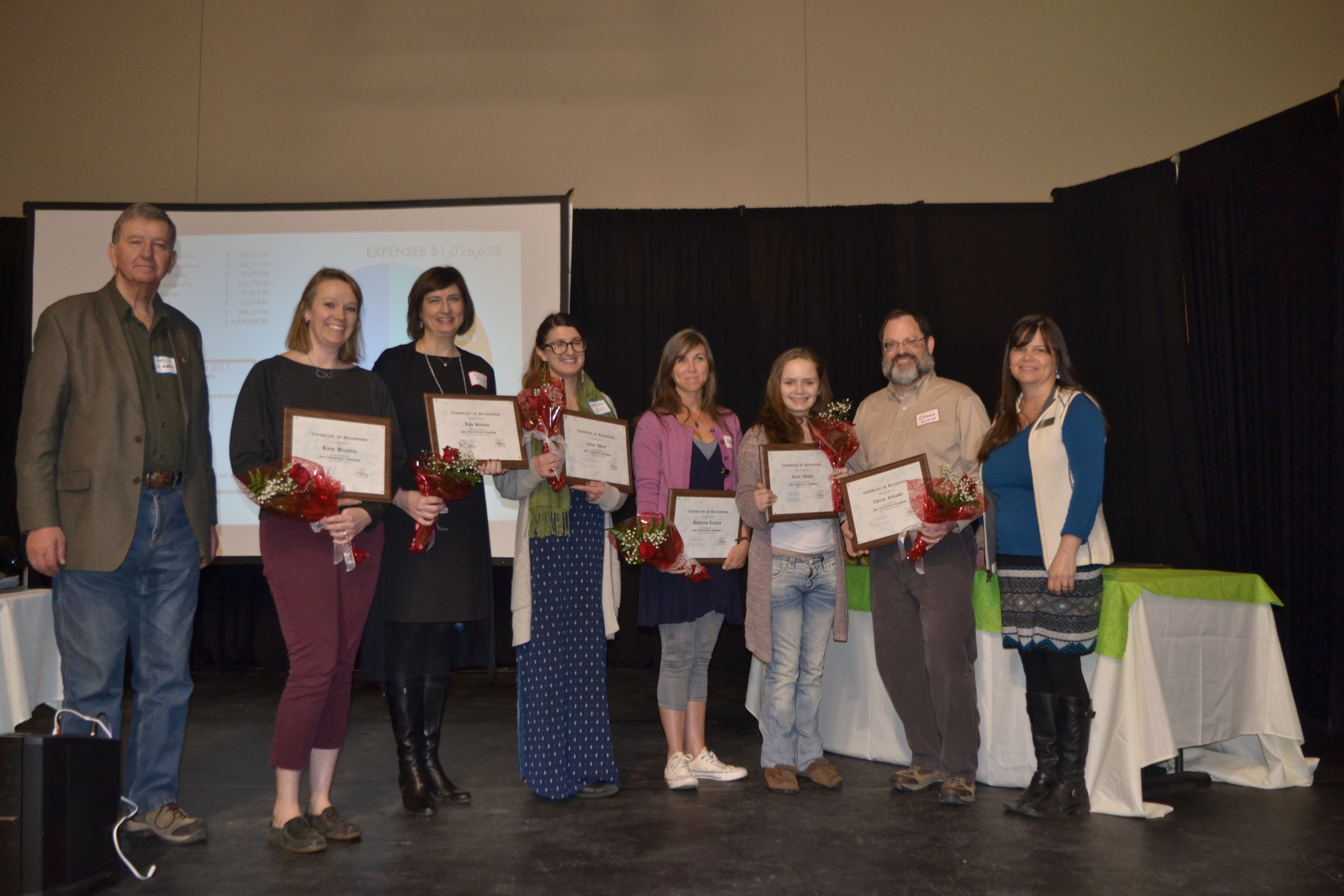 Allow us to introduce the Volunteer Champions of 2017. We all know the term "Champion" means winner. And all the people we are honoring are winners in our eyes. There is a second definition of Champion relevant to us today: "SOMEONE WHO WORKS HARD FOR A CAUSE IN THE BEST INTERESTS OF OTHERS." We call them champions because they go the extra mile in a very special way. That is, they act as advocates, as promoters — as champions for Foundation programs.
KIM HAMAN
Nothing puts down roots more than being in your own home. Our champion for workforce housing is Kim Haman of First Interstate Bank. Kim has lent her expertise to our Workforce Housing Committee since it started 2 years ago. She's given us valuable input and helped us create key documents, policies, and processes. Kim also chairs the Finance subcommittee and contributes her knowledge to other subcommittees. Kim has been described as a "cornerstone" to our initiative — and when you talk about building homes, "cornerstone" is especially meaningful. Please join us in thanking Kim Haman of First Interstate Bank, our champion for workforce housing.
ANN WINNING
There's a favorite saying that we should give our children roots — and wings. As director of the Beartooth Children's Center, Ann Winning has long been giving those two precious gifts to the youngest members of our community. She is our Foundation champion for Early Childhood development. Ann has been essential to the Foundation's Early Childhood Committee, working hard to coordinate needs assessments, develop initiatives, and much more. She's represented the Children's Center at the annual Resource Fair. She's game to tackle any task, large or small, that will serve our children. In our book, Ann Winning is a winner — let's thank her for her efforts on behalf of our youngsters.
KATE BELINDA
Kate Belinda has been an incredible advocate for young people to get involved in voluntarism and philanthropy. Following on her passion for a clean natural environment, she and her Green Team students begin a partnership in 2017 with the Pro Cut Green Fund — and if there's anybody who knows roots, it's Pro Cut. Kate and her students participate in reviewing grant applications and granting funds to local nonprofits involved in outdoor projects. When there's a youth activity at the high school or elsewhere in town, Kate is there with bells on. Plus, she finds time to contribute to meetings of the Youth Steering Committee and other community youth events. An educator … a parent … and a champion of youth engagement … let's show our appreciation for Kate Belinda.
CHUCK AURAND
As you all know, our local Office of Public Assistance has been closed. The answer to this loss came from the grass roots of our community, and Chuck Aurand is our champion. Pastor at the Red Lodge Community Church, Chuck attended our community dialog on the OPA closure and never looked back. He joined the OPA Closure Subcommittee and offered the use of the Community Church for training our Navigators, who help people in need find public resources. Not only that: Chuck rallied his congregation to ring the bell for the Salvation Army and help prepare lunches for our summertime Lunch in the Sun program. Plus, he offered his church as a work site for the weekend meal program called "It's In the Bag." For all this, please join us in thanking Chuck Aurand, our champion for community assistance.
REBEKAH EASTER
The term "somatic" refers to the mind being rooted in the body and the body being rooted in the mind. Rebekah Easter is a certified massage therapist and a somatic coach and body-worker, and she teaches the practice of mindfulness at Red Lodge Bodyworks. Rebekah is dedicated to educating students of all ages in healthy techniques to overcome stressors in life — and don't we need it these days?! She worked with our Foundation team to develop a mental health curriculum for Red Lodge High School — and she's taught mindfulness and stress management to freshmen and sophomore health classes. For bringing greater calm into our stressful world, let's thank our champion Rebekah Easter.
PAT THOMSON
You could say that our champion Pat Thomson has roots here and elsewhere, as she lives part-time in Red Lodge and part-time in North Carolina. Pat began volunteering for Old Roosevelt about a year before she retired, and — lucky for us — she got hooked. She's an instrumental member of the Old Roosevelt steering committee and attends meetings in person and remotely. Pat spearheaded a training session for the steering committee on tax credits — a topic that can seem tedious but is essential to success. She drove the development of the business plan and the budgets. And she continues to work on funding opportunities, including applications for major government grants. For all of this hard work, let's thank our champion for Old Roosevelt, Pat Thomson.
ANNA DREW
You all know that the Foundation has its very own roots in the Fun Run for Charities. Anna Drew has been a rock-star volunteer and a tireless promoter for Fun Run, serving on the marketing committee as well as putting in the volunteer hours — and then some — required for her organization Domestic & Sexual Violence Services. For the Fun Run Facebook page, she created a separate unique post for each participating nonprofit. She contributed her editing skills to help ensure that our materials were all top-notch, and her enthusiasm and attention to detail were greatly appreciated. All that on top of the work she does throughout our community. Anna has been a true champion of our flagship program, the Fun Run for Charities. Our sincere thanks to Anna!
SAIGE OKKEN
Our champion youth volunteer is Saige Okken, a real go-getter. She's immersed in Student Council, the Interact and Green Team programs, and FFCLA, which stands for Family, Career and Community Leaders of America. This past weekend she one an award for FFCLA for her top notch performance.  Oh, and … she does a great job with her schoolwork! Saige has volunteered at CedarWood Villa for 6 years now. She teaches young kids how to Nordic ski every winter, and Marci Dye of the Nordic Center tells us that she is "fun, dependable, and real pleasure to work with." Saige recently organized a drive for donated goggles and gloves for the middle school's ski day, and she's working on this year's Summer Safety bike rodeo for youngsters. We're glad Saige's family put roots down here, so we can have this energetic young leader in our community. Congratulations to our champion youth volunteer, Saige Okken.