Red Lodge, June 24th, 2020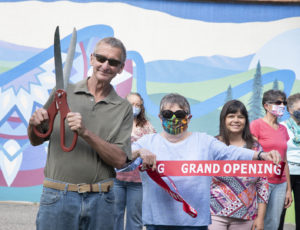 A three-year process of envisioning, fundraising, planning, and creating culminated this past Wednesday with a ribbon-cutting ceremony marking the installation of the first outdoor sculpture at the Roosevelt Center in Red Lodge.  What began as a series of 5 videos, one of which featured the sculpture's artist, Lee Kern, resulted in a grant from the National Endowment for the Arts, and eventually the creation and installation of Lee's beautifully crafted moose he calls "Teddy".
Tracy Timmons, Executive Director of the Red Lodge Area Community Foundation, introduced the ceremony with a short history of the 10-year process of identifying, purchasing, and developing the Old Roosevelt school building into what is now the Roosevelt Center. She expressed gratitude to the many community members who have helped to bring the building back to life, and noted that the effort that brought this particular sculpture to the property is a testimony to the community's dream of creating this arts, culture, conference, and community gathering center.
Roosevelt Center Outdoor Committee chair Janet Peterson also spoke at the event, describing the landscaping plan and the committee's vision to create "a welcoming, community-friendly space that can accommodate different uses."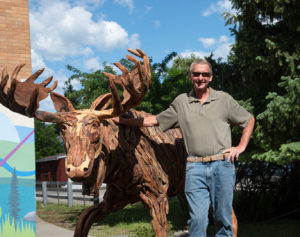 Lee Kern, a Red Lodge resident of 40 years, and owner of Rocky Fork Juniper, then officially introduced Teddy to the community. Lee Kern is known for crafting life-sized animals from Rocky Mountain Juniper that can be seen at his shop and around Red Lodge.  He described his craft to the audience, "This wood comes from public lands, which means all of you give me this wood. That's a real privilege. I'm a vehicle whereby this beautiful wood finds its shape, find its form. I love doing this, I'm one of the luckiest people in the world because I live in the most beautiful town in the world, and I have for 40 years."
We invite you to stop by and view Teddy the moose, the Roosevelt Center's newest resident.