By Sue Bury, Charity Chat Volunteer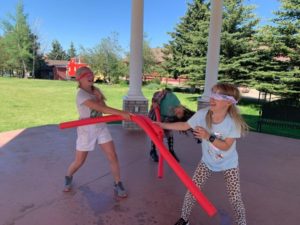 Oh, to be a kid again! The Boys & Girls Club of Carbon County continues to give our young folks a summer to remember, with an average of 55 kids participating every day.
Summer 2021 sure beats summer 2020, when COVID restrictions shut things down.
"It's a massive difference," says Maddy Clark, Chief Professional Officer. "We're open now to all kids." There is much greater awareness of enhanced cleaning, with "lots of hand washing," she says.
Activities range from biking and hiking to swimming in area pools (Absarokee and Bridger while the Red Lodge pool remains under construction) — from the artistic diversity of Tippet Rise to water days in the park.
At Maker Mondays, Boys and Girls Club members learn how to, well, make things, from keychains to a group mural. There are STEAM projects, planting and harvesting at the Red Lodge Youth Garden, and camps of all kinds, including "pizza camp" with Red Lodge Pizza Co. The summer includes great field trips and learning activities close to home.
Maddy reports that the Robertson Draw fire didn't disrupt Boys and Girls Club any more than any other organization, but staff talked to the kiddos about it, assuring them that the Club was a safe place and inviting their comments.
"Just like adults, they were all across the board," she says. "Some kids have parents who are firefighters, some were scared, and some couldn't care less. And the helicopters are always exciting to see."
The Club is also providing summer food service, two meals per day to any child without regard to family income, using grant money from USDA channeled through the Montana Office of Public Instruction.
Our seasonal changes being what they are, Boys and Girls Club will close for the summer on Friday, August 13, after an End of Summer BBQ.
Then it will be time for the staff to do a deep clean, Maddy says, "bleaching the Legos and washing all the equipment." Staff will get some time off to rejuvenate, and there will be training and preparation for the transition to autumn activities. The club will reopen August 30.
Plus, there's the Fun Run and the club's own Rocky Mountain Chef Invitational gala fund-raiser, which returns in-person this year – watch for details!
Boys and Girls Club serves some 160 kiddos total, and chances are, you are a family member, friend, or acquaintance of one or more of them.
Tip your broad-brimmed summer hat to the team at Boys and Girls Club for providing safe, high quality, fabulous fun activities for our community's young folks.