This Martin Luther King day local volunteers, AmeriCorps Vistas and a Food Corps member spent the day sharing and discussing the importance of Dr. Martin Luther King Jr.'s life and legacy with students from Mountain View Elementary School and Roosevelt Middle School.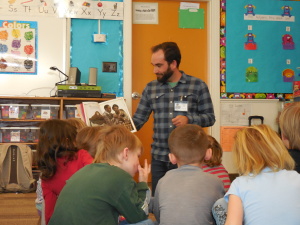 During an assembly at Roosevelt students watched a segment of Dr. Martin Luther King Jr.'s famous "I Have a Dream" speech before breaking into group discussions lead by volunteers. The group discussions were enlightening for both students and volunteers, as volunteer Betty Hecker stated "I was impressed with how aware they were, they knew why Dr. King was important, and were able to connect it to their own lives. They were very thoughtful about what they could do to improve the world."
Volunteers also read books about Martin Luther King Jr. to elementary students. Students took time to reflect and talk about Martin Luther King's dream before creating their own hands for peace, illustrating their own dreams about how to make the world a better place.  These hands will be displayed in the school to form and a circle of peace in celebration of Martin Luther King Jr.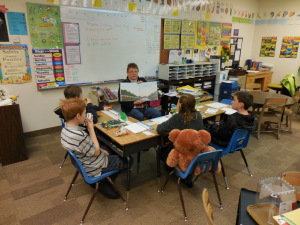 MLK day gives us a chance to celebrate and share the importance of Dr. Kings dream with younger generations and to help make a positive difference in the life of our nation. It is important to recognize the importance of Martin Luther King Jr.'s dream not just on MLK Day but everyday. If you feel inspired to make a difference in our community, consider volunteering!