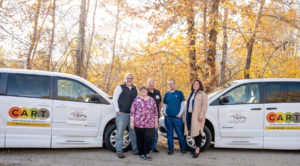 "Yes, you're seeing DOUBLE!  CART now has 
TWO
 vans to serve your transportation needs around Carbon County!
And to Billings!  As always, call 406-426-4506 to book a ride!
You're seeing our full CART Staff taking advantage of the Fall colors!  Left to right:  David Kallenbach, Transportation Coordinator; Karen Dietz, Driver/Dispatcher; Jay Herman, Driver; Coy Snyder, Data & Analytics; Tesla Palmatier, Programs Director for RLACF.
CART offers rides to Billings, Tues, Wed, & Thurs.  9 am to 3 pm.  With the new van, we can now offer local rides around Carbon County, Monday thru Friday.  Our hours are 8 am to 4 pm."