By Theresa Whistler
Workforce Housing Coordinator
July 11th was a very special day for three Red Lodge families whose matriarchs spent the day beginning to build their new homes at the Spires under the guidance of Helena Area Habitats' Red Lodge construction manager, Andrew Ray.  As the day started, residents took notice and there were some friendly introductions (including one neighbors' curious dogs).  Within minutes after securing the Johnny-on-the-spot, each homeowner was measuring boards and had circular saws in their hands.  This first day was an introduction to safety, basic carpentry skills, and most importantly, building a set of sawhorses for each future home.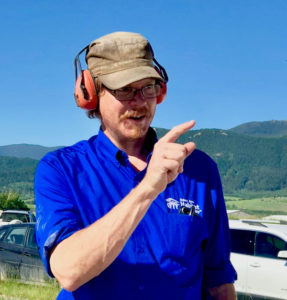 Andrew, a long time home builder himself, explained the "sawhorse" tradition to the newbies.  To paraphrase, Andrew: "One of the oldest traditions of building a home is to start by building your own sawhorses and because we're building 4 homes at once, we'll build 8 sawhorses.  By the time we finish building these homes, you'll notice all the cuts and dings on the top boards…you might even see a tiny smudge of blood here and there. These sawhorses will be with you through the blood, sweat (and possibly tears) you'll put into building your homes. They'll be used through the life of the house to maintain it or build other needed things, possibly bookshelves.  So, when anyone moves, the sawhorses stay".  The joy of learning this tradition raised enthusiasm for what lies ahead even more so and left everyone wondering just how beat up those horses will be at the finish.
By the end of the day, 8 very sturdy sawhorses and a site plan table were built and ready for the work ahead.  Everyone left with new skills, high spirits, and readiness to learn more.  Moving ahead, the homeowners will work together on-site every Tuesday evening and Saturday with the partners they'll bring until all homes are move-in-ready.   The "sweat-equity" families are putting into building homes on land placed in a community trust is all part of the agreement the families have with Habitat for Humanity and Trust Montana.  The homes are being constructed through a partnership between the Red Lodge Area Community Foundation, Helena Area Habitat for Humanity, Trust Montana, and the United States Department of Agriculture.
Anyone interested in building a home through this program or considering volunteering to build may contact Theresa@rlacf.org or call 908-872-5596.  No experience is necessary. Protocols for working safely on-site during the COVID-19 situation are practiced by following Habitat's guidelines and limiting the number of people on site.