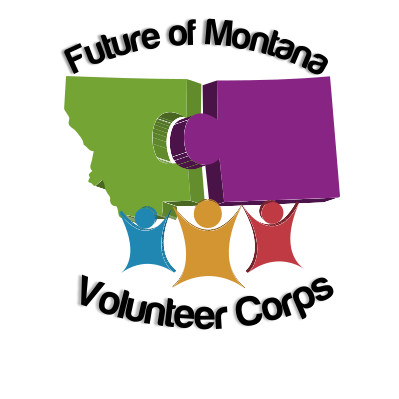 Future of Montana Volunteer Corps member, Katie Nell, put her talents and volunteer spirit to good use these last few weeks creating an AWESOME logo for the student volunteer group.
Katie came up with idea, tweaked, and retweaked until the logo was just right. We thank Katie for her hard work, good eye, and volunteerism! Also, Katie isn't just our volunteer -she has her hands in so many different projects! Check out this little blurb she wrote:
I will be a senior at red lodge high school this year, my name is Katherine Nell but most people know me as Katie. I found a passion in graphic design and was able to advance my knowledge in the field in both Business Professionals of America (BPA) and in the advanced computer apps class at the high school. Jenny Zimmerman has also helped me and mentored me and I am really excited to be able to take her graphic design yearbook class next year and learn even more. I hope to pursue graphic design in college and hopefully become a successful business woman. I am also involved in many other activities including FCCLA, National Honor Society, Interact Club, Student Council, and am currently working two jobs this summer at the swimming pool and the Roman Theater. I hope to see you around town and thank you for offering me this enormous opportunity and providing this great service for our community and the students within it.