Ensuring our Community Pool has a Future
The Red Lodge City swimming pool is a wonderful community resource, hosting more than 3,000 people each summer. It offers recreational, health and educational opportunities to adults and youth in our region. We have established a permanent endowment to provide funding for operation and maintenance of our pool.
Average annual pool operating costs are $70,000. To continue to support the pool, an $1,750,000 endowment needs to be created to generate enough funding to cover the annual operating costs.
With your help our pool can continue to be a vital asset for our community. 

Pool Stats:
Pool is open June-August
120 lessons for children on average each year.
90 people for lap swim on average each year.
37 family passes on average sold a year
Numerous communities use the pool including Joliet, Edgar, Bridger, Roscoe, Absarokee, and Red Lodge
Community groups travel to the pool like Westminster and Girl Scout Camp, and YMCA Billings
Builds self confidence, self esteem, saves lives (drowning ranks as second cause of accidental deaths for children under 16)
The pool provides a safe, fun, and social atmosphere
The Youth enrichment fund currently subsidizes pool usage for 10 lessons and 7 family passes.
What the Pool Offers:

The pool is heated to 83 degrees for comfortable swimming
There are 3 opportunities for lessons each year for swimmers of all skill levels
Lockers are available for rent
There are showers to keep the dirt out and the chlorine out of your hair
Snacks are available at the pool to keep everyone fueled for fun
The diving board is a big hit with the swimmers
There is a kiddie pool so everyone can have fun
For those on-looking at the pool, there are lawn chairs provided for your comfort
Certified life guards are at the pool during all hours keeping the pool safe and fun for everyone. This also employees locals during the summer time and the pool covers their certifications
The pool is open everyday for lap swim both in the morning and the evening and open swim through the rest of the day
For large groups and events you can book the pool for a private function
Family passes and individual passes are available for the summer and discounts are available to locals
Rates are affordable, making it easy to have fun all summer long
Lunch in the Sun, a program to feed children in the summer, is offered at the pool 3 days a week during the months of June and July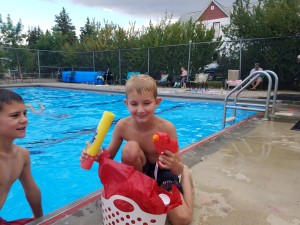 How to Help
Volunteer:
The pool is always looking for motivated Volunteers who can dedicate some time to help raise funds for the pool, plan events, and share the word. Check out the position description on our webpage for Volunteering.
Make a Donation: 
There are many different ways to donate to the pool whether it's in-kind donations for fundraisers or daily pool needs, sharing resources with the pool for its events, or making a donation toward the City Pool Endowment to keep money accruing for this asset.