Red Lodge Proud and Beautiful, a subcommittee of the Red Lodge Area Chamber of Commerce/Visitors Center, is dedicated to projects that enhance our downtown.
Projects that we are raising funds for through the Fun Run: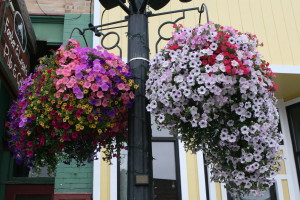 * Baskets on Broadway, a summer effort to hang 48+ flower baskets from our historic light poles to add charm and color to our downtown area.
* Unique Locally-Made garbage cans in the historic downtown shopping district – each one a unique piece of art.
* Fundraising for our Independence Day Fireworks, one of the best 4th of July shows around!
* The Annual Red Lodge Christmas Stroll, a pre-holiday downtown extravaganza.
* Organizing downtown cleanup days.
* Creating, planting and maintaining the Bob Moran Memorial Garden in front of Red Lodge City Hall, in collaboration with the All Nations Garden Club.
To reach Red Lodge Proud & Beautiful, visit our Facebook page at https://www.facebook.com/RedLodgeProudAndBeautiful/ or call the Red Lodge Area Chamber of Commerce at 406-446-1718.