Enhance the lives of individuals with disabilities through recreation and embrace a life without limits
This is year we will raise funds to help in the effort to move Eagle Mount beyond capacity. Going into our 30th year we continue to provide recreation for people with disabilities and I am proud of my staff and our dedicated volunteers who are out there with our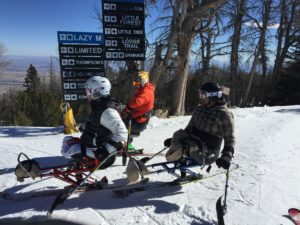 participants and make miracles every day.  We have the chance to help more people, but we are starting to reach our capacity. The 14th Annual Fun Run funds will support our signature adaptive ski program. Ski season 2017 we provided 418 lessons on the mountain. With the dedicated efforts and hard work of 5 staff, 1 intern and just over 70 volunteers there were still several days we struggled to have enough instructors on snow to ensure that every one who came out to ski got a chance to be on snow.
Eagle Mount provides year-round recreational opportunities of alpine ski, cycle, golf, equestrian, out & about, summer youth day camp, Nordic ski, swimming and an annual sled hockey clinic. Across all our programs we provide opportunities for over 200 children and adults with disabilities throughout the year.
Last year we made $1,260.41 through the fun run and put it into getting new carpet for our ski hut as it was becoming so tattered it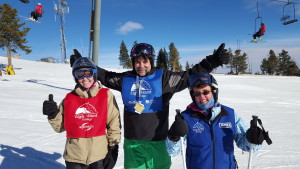 was a safety risk. This year we would like to beat our goal so we can get more people out on snow.
Check us out at www.eaglemount.us or like us on Facebook https://www.facebook.com/discovereaglemountbillings/
to get the most up to date information of our happenings.